Ministry of Economy, Trade and Industry Japan (METI)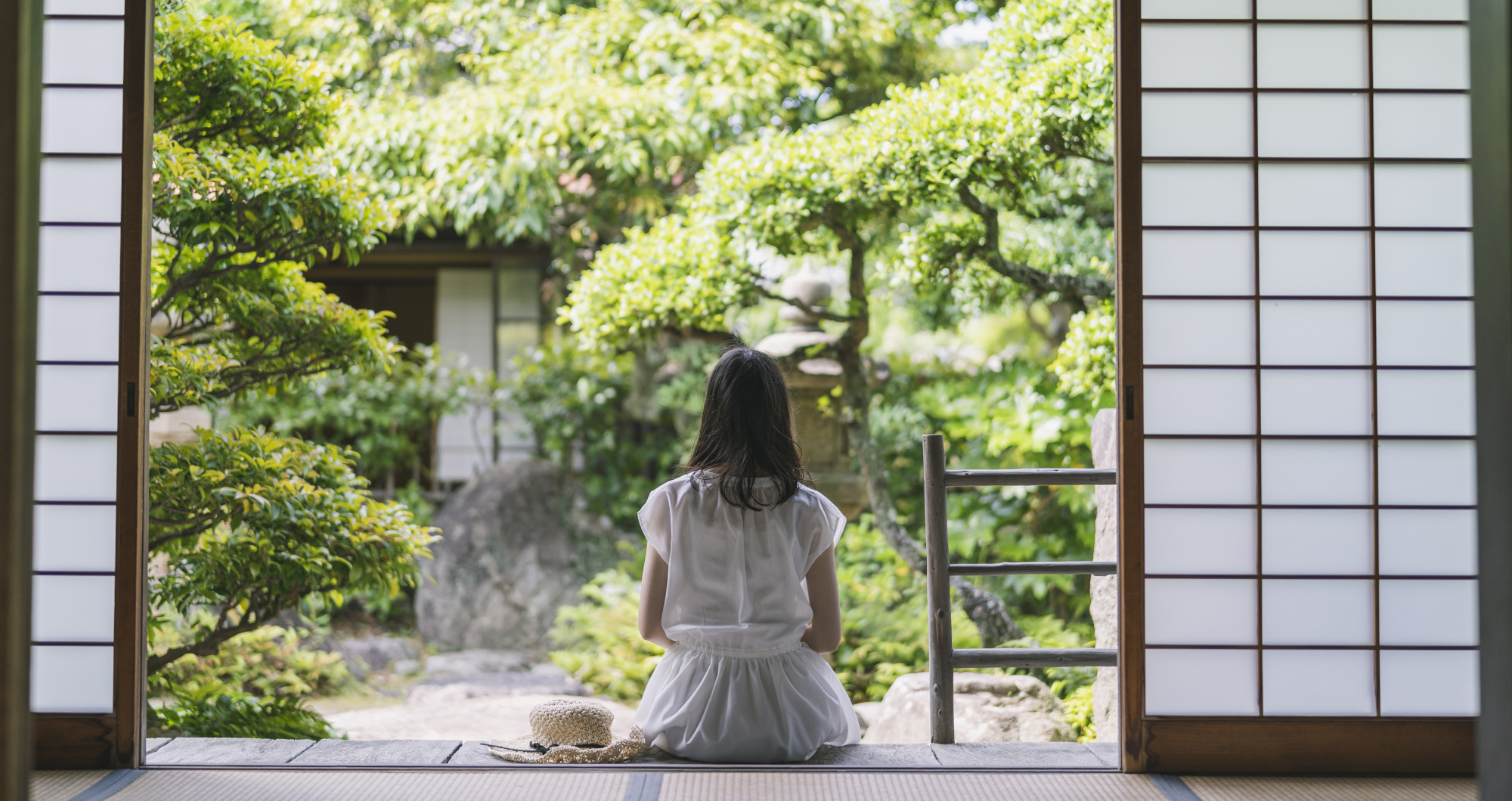 Official Partner of the Global Bioeconomy Summit 2020
The Ministry of Economy, Trade and Industry is here representing Japan and its bioeconomy activities.

GHG emission reduction by recycling-based production
The Group produces amino acids by fermentation using mainly agricultural crops that are available in each region and uses almost 100% of the nutrient-rich by-product (copro) after extraction of amino acids.

The Group has implemented such recycling-based amino acid fermentation processes "Biocycle" into fermentation plants around the world to secure stable raw materials supply and to reduce GHG emissions.
This "Biocycle" reduces 1.1 million MT of GHG emission comparing with ordinary organic nitrogen fertilizer. The Group has also introduced biomass boilers in some factories, achieving a renewable energy rate of 24%.

In order to maintain a GHG reduction of 1.1 million MT, it is necessary to operate "Biocycle" stably to maintain GHG reduction. Similarly, for biomass boilers, it is necessary to increase the demand for copro, including incineration ash before expanding biomass boilers in the future.
Development of Gas-to-Lipids Bioprocess
To establish the biorefinery technology "Gas-to-Lipids bioprocess" for carbon recycling, two-stage fermentation system consisting of an anaerobic process that immobilizes CO2 emitted from thermal power generation to produce acetic acid and an aerobic process that synthesizes high value-added lipids and chemical raw materials from acetic acid will be constructed.
This research will conduct bench-scale tests of individual and integrated processes, evaluate environmental impact, technological competitiveness and feasibility, and obtain knowledge that will contribute to early commercialization.
Turning "Garbage" into Ethanol Establishing a first-in-the-world innovative production technology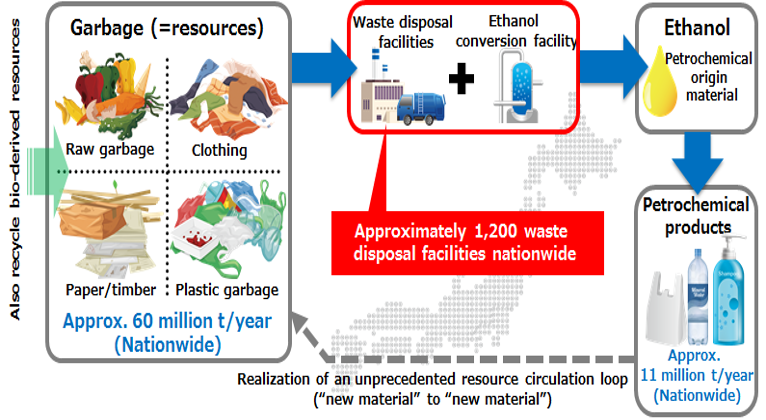 Background
Approximately 60 million tons of combustible waste is generated each year in Japan. When converted to calories, this would equate to approximately 200 trillion kcal. Although this is easily of sufficient size compared to the amount of fossil resources used to produce plastics in Japan (approx. 30 million tons/year, approx. 150 trillion kcal), only some of this waste is recycled while most of it is incinerated and disposed by means of landfill.
Plastics are utilized in various everyday products and are an indispensable part of our daily lives. The handling of plastics after they have been used, however, is a serious problem, as highlighted by the issue of plastic waste in our oceans. In order to solve this issue, plastics need to be recycled at the end of their life.
To pass on a sustainable society to the next generation, a japanese company has engaged in the conversion of waste into new products. Under this initiative, unsorted, unrecyclable waste including plastic waste become an urban oil field.
Since 2014, the company has been working with carbon recycling company to demonstrate the conversion of unsorted unrecyclable waste into ethanol. The success of this work has attracted partners with support from the Ministry of the Environment (Carbon Cycle Society Model Demonstration Project) in order to achieve the practical implementation and commercialization of this technology.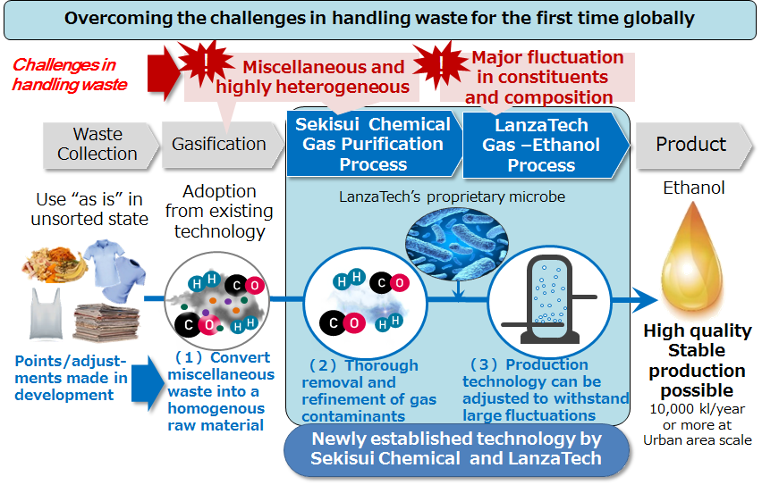 2. BR ethanol technology
Since 2014 the two companies have been working together to scale technology that converts unseparated waste gathered at waste disposal facilities into a gas stream that is purified by a gas purification process.
The gas is then converted into ethanol by microbes at low heat and pressure. This innovative technology has made it possible to turn abundant "waste" that would otherwise be landfilled or burnt for power into a resource alternative to fresh fossil resources.
Circular Economy Initiative Manufacturing Polyolefin using Waste as Raw Material
Two japanese companies have agreed to form a strategic alliance to benefit society by deploying technology for manufacturing polyolefin using waste as a raw material.
This alliance combines production technology for transforming waste into ethanol
with a technological know-how in manufacturing polyolefin.
Pilot production will begin in fiscal 2022, with turning waste into ethanol, and using this ethanol as raw material for polyolefin. A full-scale market launch of this production method is expected in fiscal 2025.
——————————————
Contact person for questions about the projects/products: Yoshiyuki Fujishima – fujishimaysy@nedo.go.jp
Daisuke Shibata, Specially Appointed Professor
Institute of Advanced Energy, Kyoto University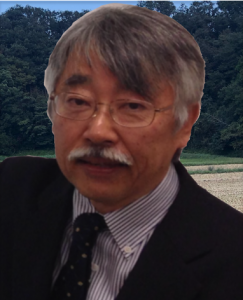 Professor Reiko Motohashi of Shizuoka University and I have started a gender-equal online consortium for Bioeconomy in Japan, the Japanese Bioeconomy Association JBEA since 2019.
The JBEA has just begun the activities although the spread of COVID-19 has disturbed them somehow. Unlike other countries, the economic framework "Bioeconomy", proposed by OECD in 2009, had not been well recognized in Japan, even when the first Global Bioeconomy Summit was held in Germany in 2015.
Unpopularity of Bioeconomy in Japan was probably due to the disaster by the Great East Japan Earthquake in 2011, by which domestic issues mattered mostly in several years. As a chair, I was involved in a search of the situation of bioeconomy activities of other countries in 2017, which latterly led me started JBEA.
I also have involved in the activity of academia an industry for introducing sustainable energy in agriculture to contribute to climate change mitigation, as the producer of the Green Energy Farm Consortium, since 2018.
Jun Ogawa, Professor
Div. Appl. Life Sci., Grad. Sch. Agric., Kyoto University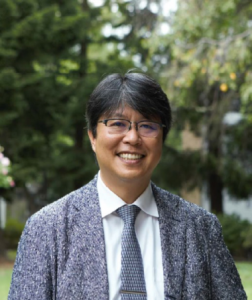 Jun Ogawa completed his doctorate in 1995 at Kyoto University. He was awarded "Oleoscience Award" by the Japan Oil Chemists' Society (2015, 2020), "Society Award of Japanese Association for Food Immunology" (2018), and "Ching Hou Biotechnology Award" by American Oil Chemists' Society (2020).
____________________
Regarding the development of biological functions that technically support bioeconomy-based sustainable recycling-oriented society, Prof. Ogawa is searching and developing new biological functions, paying particular attention to microorganisms.
Specific research and development targets are as follows (selection):
Searching for novel metabolic pathways and enzyme systems useful for chemical compounds production and their application for bioprocess development.
Modeling and reconstruction of functions expressed by microbial consortia especially in rhizosphere and hydrosphere and their application for crop production and fishery production technologies.
Analysis of Japanese traditional fermentation processes for production of foods, dyes, chemicals, etc.
Recently, he has been participating in NEDO's new project integrating these R&D with digital technologies through the development of "Data-driven integrated Bioproduction Management System" (iBMS).
Kiyohiko Igarashi, Associate Professor
University of Tokyo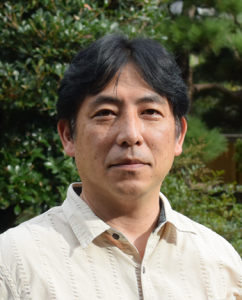 Kiyohiko Igarashi (Kiyo), Associate Professor in the University of Tokyo, is one of leading researchers in the area of enzymatic biomass conversion and is important opinion leader of Bioeconomy in Japan.
He has long carrier in cellulose-degrading enzymes from his undergraduate age and has more than 200 papers and book chapters about biodegradation and biosynthesis of cellulosic biomass. He has been invited more than 200 lectures related to biomass utilization and Bioeconomy not only inside of Japan but also in many countries all over the world.
He also contributes as a committee member in the Cabinet Office (CO), Ministry of the Environment (ME), Ministry of Economy, Trade and Industry (METI), Ministry of Agriculture, Forestry and Fisheries (MAFF) for the promotion of Bioeconomy, especially in relation to Biostrategy 2020 newly established in Japan.
In 2017, he started "One Earth Guardians developing program" in the Graduate School of Agricultural and Life Sciences of the University of Tokyo and is working on developing the younger generation in the field of Bioeconomy.
Kuniki Kino, Professor
Waseda University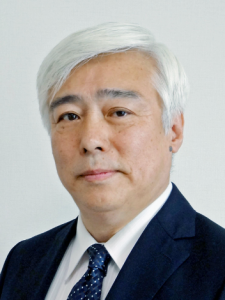 The development of innovative bioprocesses is expected to make a significant contribution to the promotion of bioeconomy and the realization of a sustainable society, because the bioprocess is energy-saving, environmentally benign, and enables precision syntheses and reactions that are difficult to carry out using chemical catalysts.
Therefore, we are searching for useful enzymes from microorganisms, modifying their functions, and developing the efficient production processes for useful materials using these enzymes.
Specifically, we are studying the production of salt taste enhancing dipeptides and imidazole dipeptides with anti-fatigue effect, using l-amino acid ligase, as well as the development of new methods for synthesizing flavor and fragrance compounds such as vanillin and sesquiterpenoids.
We have constructed a chemoenzymatic process for the production of chirality-controlled amide compounds, such as short-chain peptides that are used as raw materials for small-molecule drugs and polyamide compounds.
National Institute of Advanced Industrial Science and Technology
AIST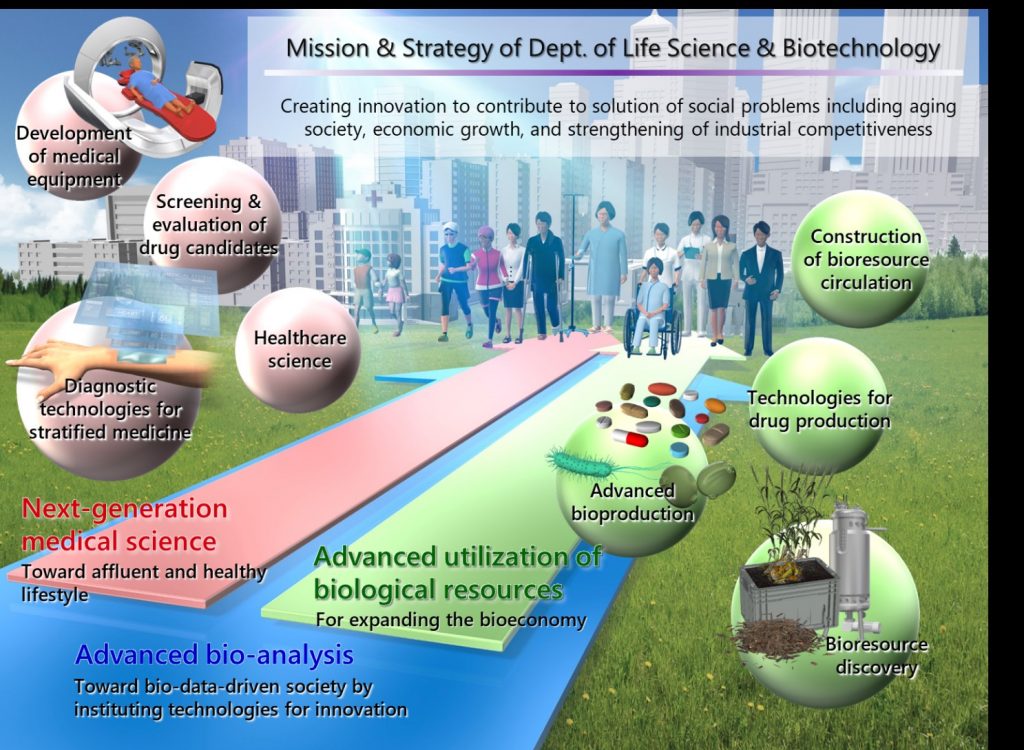 The Japanese government has formulated the "Biotechnology Strategy 2020", which aims to realize a bioeconomy society by 2030. Based on this, our mission is to create innovation that contributes to solve social issues such as an aged population with declining birthrate, and to strengthen economic growth and industrial competitiveness. Our priority issues include the development of advanced technology that supports medical systems, advanced bio-analysis technology to realize a bio-data-driven society, and bioresource utilization technology for the realization of a bioeconomy society.

Our research includes a variety of topics that can contribute to the development of a bioeconomy. These include the development of biodegradable plastics and estimation of their degradation time; production of chemicals such as pharmaceutical ingredients in plant factories; development of plants resistant to drought, low temperature, or saline conditions; novel technologies for material production from waste and wastewater; and novel wastewater treatment technology.

By combining a series of studies on material development, production processes, decomposition evaluation, and wastewater treatment, we aim to develop and commercialize biological resource utilization technology to achieve a recycling-based society.
Forestry and Forest Products Research Institute
FFPRI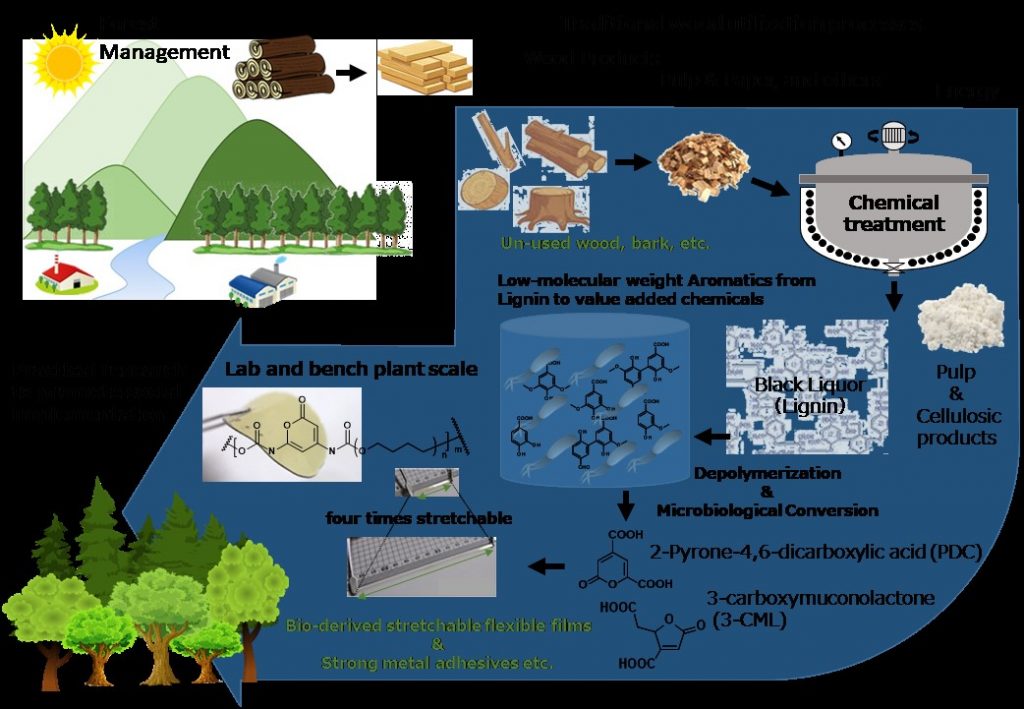 We have been considering the production of sustainable materials and chemicals which can alternate fossil derived products from forest biomass. In addition of traditional wood utilization processes, we are working on the production of value-added wood products such as CLT especially from Sugi wood, a major planting species in Japan.
Other than those practical research, we are also developing conversion technologies that can co-produce functional cellulosic materials, such as cellulose nano-fiberile and water-repellent packaging materials, and low molecular chemicals from lignin that is one of the main wood components having a complicated structure. In these conversions, a less hazardous chemicals, such as alkaline-oxygen, and microbiological treatments are used.
Model bioreactors have been developed with high conversion efficiency for lignin to 2-pyrone-4,6-dicarboxylic acid (PDC) and 3-carboxymuconolactone (3-CML). Various types of resins having superior properties compared to petro-derived materials can be successfully produced from those platform chemicals. Especially the epoxy adhesive made from PDC showed strong adhesiveness against the iron and stainless metal compared to commercial epoxy adhesives. The PDC polyurethane became the spandex type polymer with elasticity. By utilize of unused forest residues as low materials for value added products, it would be possible to improve the economic effects at the local forest zones for establishing sustainable forest management.
Japan International Research Center for Agricultural Sciences
JIRCAS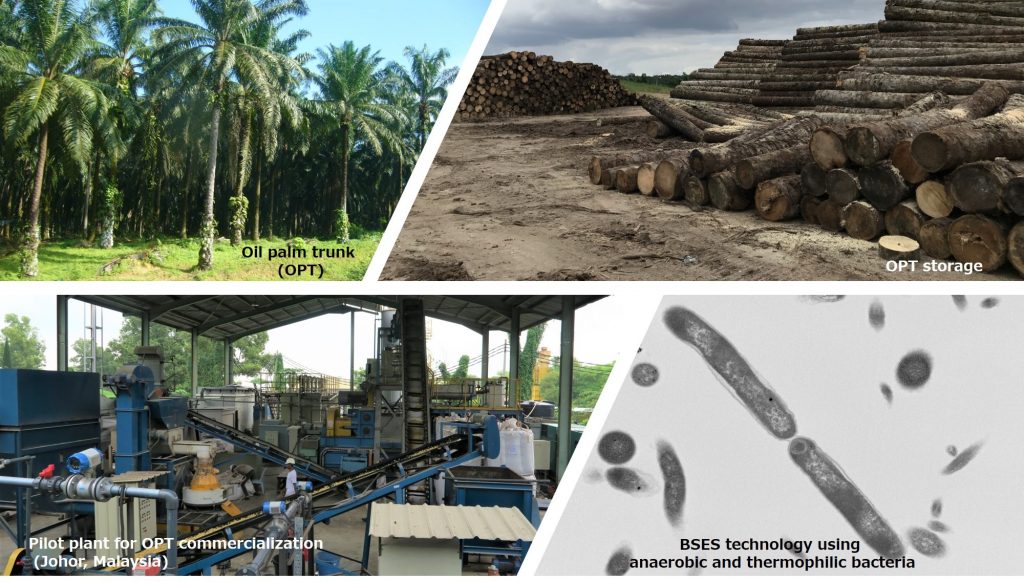 JIRCAS undertakes comprehensive experimental research for technological advancement of agriculture, forestry, fisheries and related industries in tropical and subtropical zones of developing regions. One of our principal agenda is to tackle global environmental issues associated with bioeconomy. We have developed a technology based on biological simultaneous enzyme production and saccharification (BSES) system using anaerobic and thermophilic bacteria. This technology is widely applicable for saccharification of lignocellulosic biomass to facilitate the efficient production of renewable energy and chemical materials from agricultural crop residues such as oil palm, cassava, and sugarcane in Southeast Asia.
To promote the utilization of BSES and to establish bioeconomy in Southeast Asia via integration of agriculture and chemical industry, we launched a new collaborative project that involves the private sector, government, and academia in Malaysia and Japan under the Science and Technology Research Partnership for Sustainable Development (SATREPS) program of Japan. In this project, we focus on the impact of abandonment of oil palm trunk (OPT) and the development of technology to transform OPT and sap into high-value-added products including biogas and biodegradable materials. This project is expected to contribute to the achievement of sustainable palm plantation management by facilitating the removal and efficient utilization of felled OPT and making replantation possible within existing palm plantations.
Japan Organics Recycling Association
JORA

The biomass-oriented products contribute to development of resources circulative society, mitigation of emission of CO2 as well as creation of new industries. Recently, the biomass plastics are focused and the use of them have drastically increased to save fossil resources, to prevent marine pollution and to decrease emission of GHGs. The Japan Organics Recycling Association (JORA) is promoting certification of products and materials made from biomass, which it calls the Biomass Mark Project. JORA is only one organization that certifies Biomass Mark in Japan.
The Biomass Mark is allowed to be labeled on products and materials containing a certain percentage of biomass after the composition, proportion, quality, and safety of the raw biomass is verified by a third-party organization composed of academic experts. By displaying this mark, manufacturers can promote their technological capabilities and fulfill their environmental responsibility in manufacturing. Consumers can know at a glance how much biomass is contained in any part of the product with the Biomass Mark, and if they want more information, they can search for product information by mark number. By buying products with the biomass mark, they can fulfill their environmental responsibility.
This project and activities concerned connect to promotion of Bio-economy and contributes to SDGs-No. 9,12 and 13 on responsible consumption and production.
Japan Science and Technology Agency
JST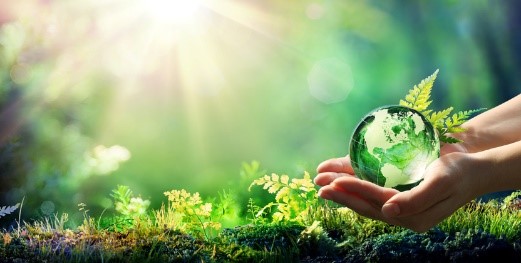 JST plays a central role in Japan's Science and Technology Basic Plan. Based on science and technology targets issued by the government we fund basic research, commercialization of new technologies, distribution of science and technology information, and in recent years promote international joint research and the fostering of next-generation human resources.
The JST-Mirai Program promotes R&D from the initial basic research stage to proof of concept (POC). We set clear targets for economic and social impact and proactively tackle technological challenges. The program drives the development of the bioeconomy through "realization of a low carbon society through game changing technologies".
We encourage interdisciplinary research in order to stimulate innovation, and strongly support relevant research areas including molecular biotechnology, biomass plants and bio-based chemicals. We welcome research that aims to drastically reduce CO2 emissions while satisfying the demands of society in 2050.
Research Institute of Innovative Technology for the Earth
RITE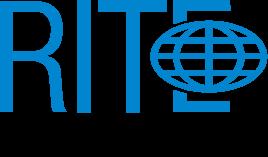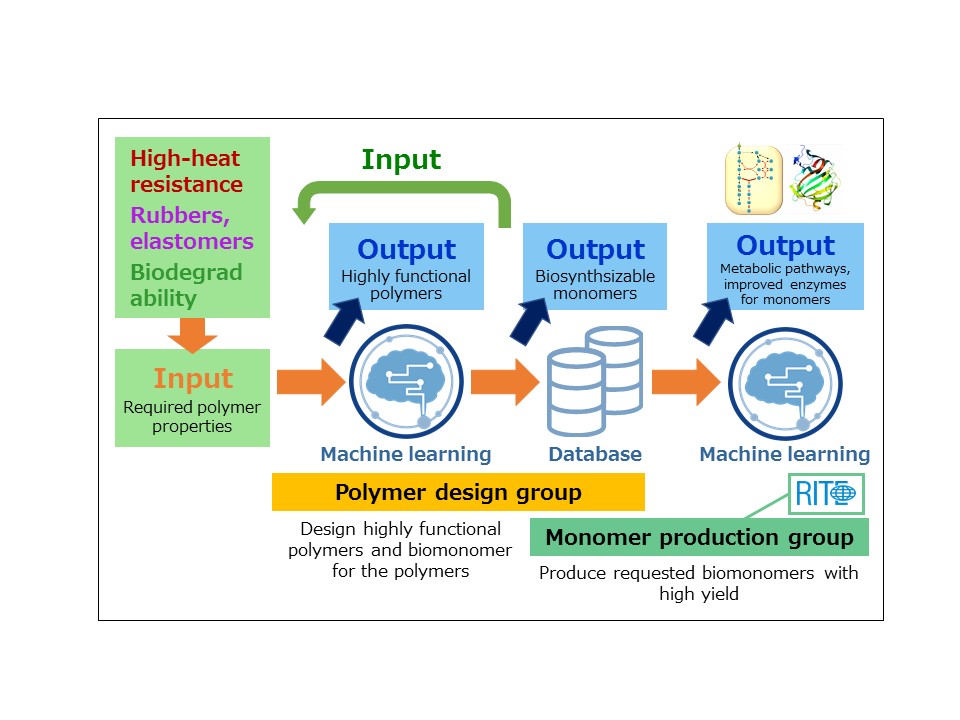 (1) Smart bioindustrial, agricultural fundamental technologies, one of the Strategic Innovation Promotion Program (SIP), will construct a foundation for an innovation by the fusion of biotechnology and digital information to promote bioeconomy and strengthen industrial competitiveness.
In this program, RITE is involved in the consortium, which aims to develop highly functional polymers derived from monomers so far not produced by biotechnologies through developing design technologies of metabolic pathways and enzymes for the monomers. The mission of RITE is to evaluate the suggested pathways, enzymes, and enzyme modifications, and to examine the productivity of target monomers by introducing the enzymes into an appropriate host.
Currently, RITE is seeking to modify an enzyme for producing aromatic diamine, which is used for the synthesis of polybenzimidazole with benzoate. The residues to be exchanged are suggested by molecular dynamics simulation, accelerating the improvement of the enzyme function. RITE is also evaluating enzymes suggested to have an activity required for producing aromatic diamine and aromatic diol, both of which are also used for the synthesis polymers. The enzymes would have not been selected unless using a machine-learning model that has been trained to screen enzymes having a desired activity.
—————————————————————————————————————-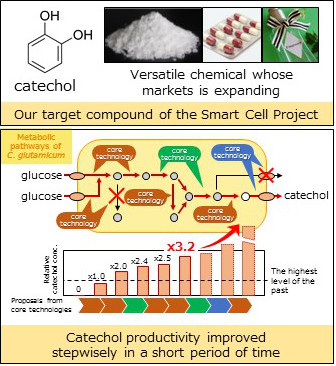 (2) RITE has been struggled to develop a new bioprocess for production of green chemicals with high yield and high productivity from renewable resources using genetically modified Corynebacterium glutamicum based on our originally developed growth-arrested bioprocess and metabolic engineering techniques. An aromatic compound, catechol is widely used as building block in agrochemicals, flavors, fragrances and pharmaceuticals, and its global market size is growing. Currently, it is manufactured from petroleum-derived raw materials. We aim to establish the fermentation technology of this aromatic compound based on renewable resources, thus creating and realizing new biotechnology-based industries.
In the Smart Cell Project conducted by NEDO, RITE started developing a production strain of catechol. Since the metabolic pathways of catechol from glucose are long and complicated, it was expected that it would take time to develop a catechol producer by conventional methods.
To achieve the producer development in a short time, "Smart Cell Design System" developed in the project was applied. The system includes several core technologies. RITE and collaborators have designed and constructed smart catechol producing cells using the core technologies. Catechol productivities were improved stepwisely by adopting recombination proposals from the collaborating design teams. In the first few years, the production has exceeded the highest concentration of the past reports. We aim to contribute the growth of the Smart Cell Industry by putting our project outcomes to practical use.
Japan Agency for Marine-Earth Science and Technology
JAMSTEC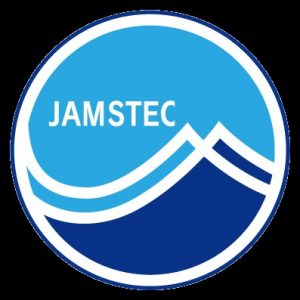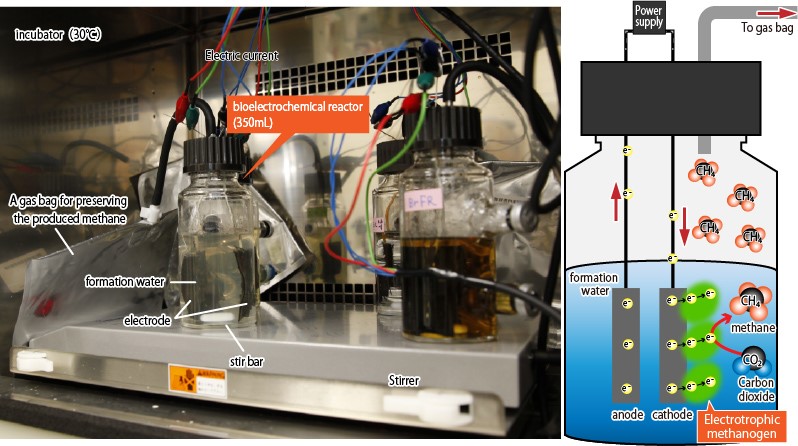 (1) The carbon and energy circulation balance on Earth is now in a transitional phase that humanity has not experienced so far. To support the economic energy demand with suppressing CO2 atmospheric emissions, it is necessary to develop sustainable carbon and energy circulation systems that harmonize with and reduce the negative impact on the Earth's ecosystems. In this decade, it has been demonstrated that microbial activity in the deep biosphere, including beneath the ocean floor, plays significant ecological roles in the advent of the Earth's elemental cycles.
In this research, we are focusing on "electrotrophic microbiome" that can directly receive electrons from the mineral surface for CO2 fixation/reduction in the deep biosphere, and aim for the development of bio-renewable and thus sustainable CO2 transformation systems. Combining bioelectrochemical potential for microbial CO2 transformation and reductive power in the Earth's deep subsurface and extremes, we will develop a novel "Geo-Bio-Electrochemical System (GBES)" that could continuously convert CO2 to natural bio-gas (methane), alcohols, and other hydrocarbon resources at a high efficiency and low cost.
If successfully developed, GBES will lead to a green innovation as one of the carbon capture and utilization (CCU) processes, which will contribute to simultaneously resolving both CO2 and energy issues for human society.
—————————————————————————————————————-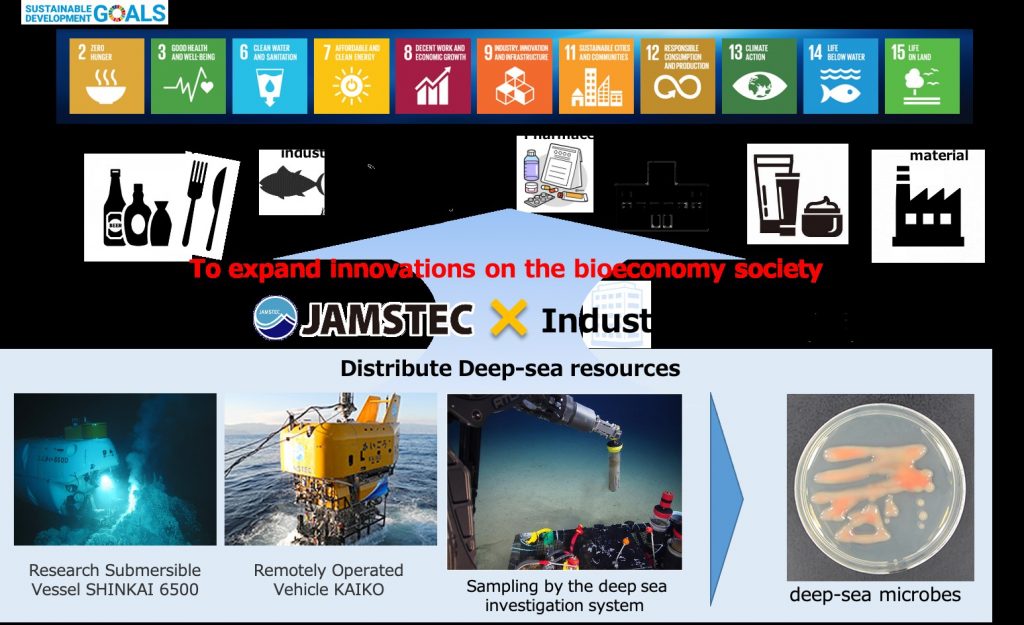 (2) Deep-sea microbes have unique machineries to adapt extreme deep-sea environments that are distinct from those of terrestrial microbes.
JAMSTEC conduct research to unveil the potential of marine microbes inhabiting extreme deep-sea environments to contribute the sustainability on Earth.
To expand innovations on the bio-economy society by unlock potentials of deep-sea resources which will lead to JAMSTEC has started Deep-sea Bioresources Project to distribute deep-sea microbes, inocula for deep-sea microbes, and environmental genome sequences to industries, universities and other research institutes.
—————————————————————————————————————-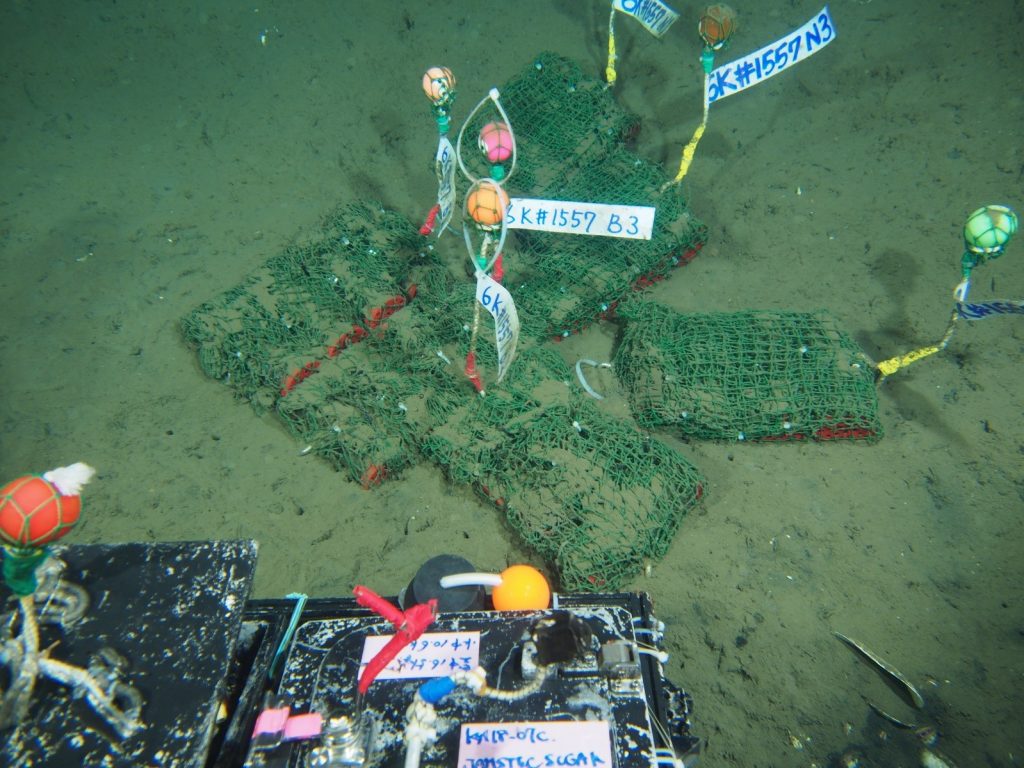 (3) Plastic pollution is an imminent problem on our planet, especially in marine environments including the deep-sea. Although appropriate management and recycling are the recommended strategies to tackling plastic waste from the society, our recent research have indicated that a substantial amount of plastics are being additionally and accidentally discharged to the ocean by natural disasters such as tsunamis and typhoons.
Replacing conventional plastics with marine biodegradable materials is effective in reducing the impact of such unintended discharges. In order to design novel marine-degradable plastics, standard method for assessing marine biodegradability of plastics is important; however, existing ISO International Standards are currently greatly variable in replicated analyses, and most importantly do not reflect cold and dark conditions at the deep sea where significant plastic debris are accumulated.
JAMSTEC is working to develop a novel universal standard method for assessing marine biodegradability of plastics in collaboration with universities and research institutes, based on a standardized seawater containing a known microbiome, financially supported by New Energy and Industrial Technology Development Organization (NEDO).
Furthermore, another recently launched NEDO-funded project based in JAMSTEC aims to develop different types of novel marine biodegradable plastics, each specialized in degradability under specific stimulus (e.g. pH, temperature, Eh), different marine environments. At the heart of this project is our deeper insights on the marine physicochemical environment and marine microbes including their metabolic pathways and activities across different depths, which will help us understand the biodegradation of materials comprehensively, and in designing novel biodegradable polymers.